Overview
·A National-level Demonstration Base for Neo-industrialization of Electronics & IT
The electronics and IT industry is one of the pillar industries of TEDA. There are industrially leading enterprises in TEDA, such as Samsung, Foxconn, Tencent Digital, and Didi Technology. An electronic information manufacturing cluster centered by integrated circuits, mobile communications, chips, and electronic components, and a software and IT service cluster centered by Internet and software have formed, providing a solid foundation for the industrial development.

In 2019, the annual output value of the electronics and IT industry of TEDA was 110.3 billion yuan, and there were 456 foreign-funded enterprises and 202 domestic-funded enterprises in TEDA.

Automotive Electronics Cluster
Reprehensive enterprises include Denso Electronics, a world top supplier of automobile parts and systems; Continental AG, a world leading supplier of automobile accessory products; and Mobis, a top automobile parts supplier.
The ultra-high capacity and ultra-small chip component production base of Samsung Electro-Mechanics Co., Ltd., a Korean enterprise, is located here.
It has gathered 5 whole vehicle enterprises represented by FAW-Volkswagen, FAW Toyota, and Great Wall Motors, and more than 200 automobile parts supporting companies, forming a complete automotive industry chain with many series and varieties.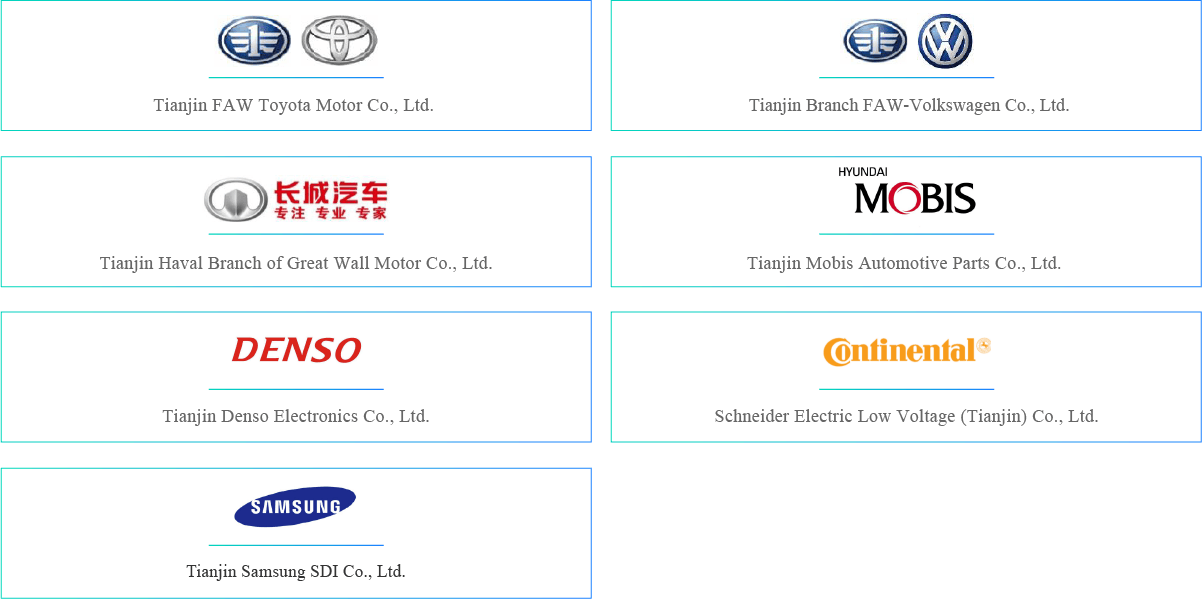 Communication and Display Equipment Cluster

The leading enterprises represented by Samsung, 712, and SUBLUE, and many supporting enterprises represented by AVX Electronics and Alps, have driven the huge demand of surrounding market and formed the unique advantages of TEDA in the development of this industry.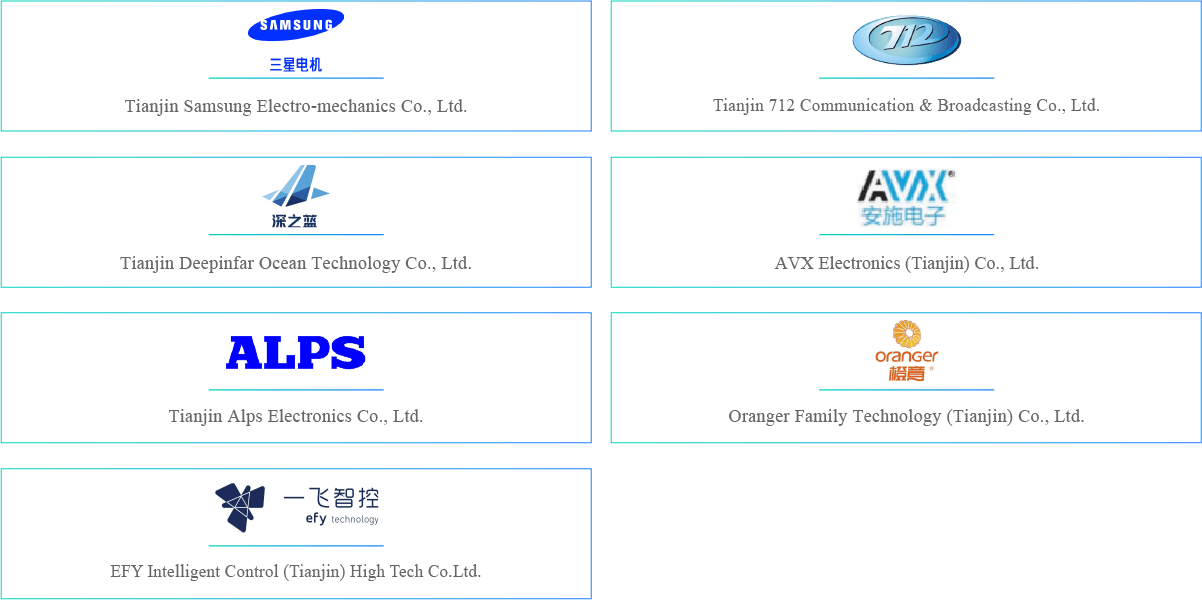 Integrated Circuit Cluster
There are many domestically and internationally well-known companies, which are leading in the fields such as RF front-end, high-frequency wireless communication chips, new communication and information security chips, forming a complete ecosystem of design, manufacturing, and packaging and testing.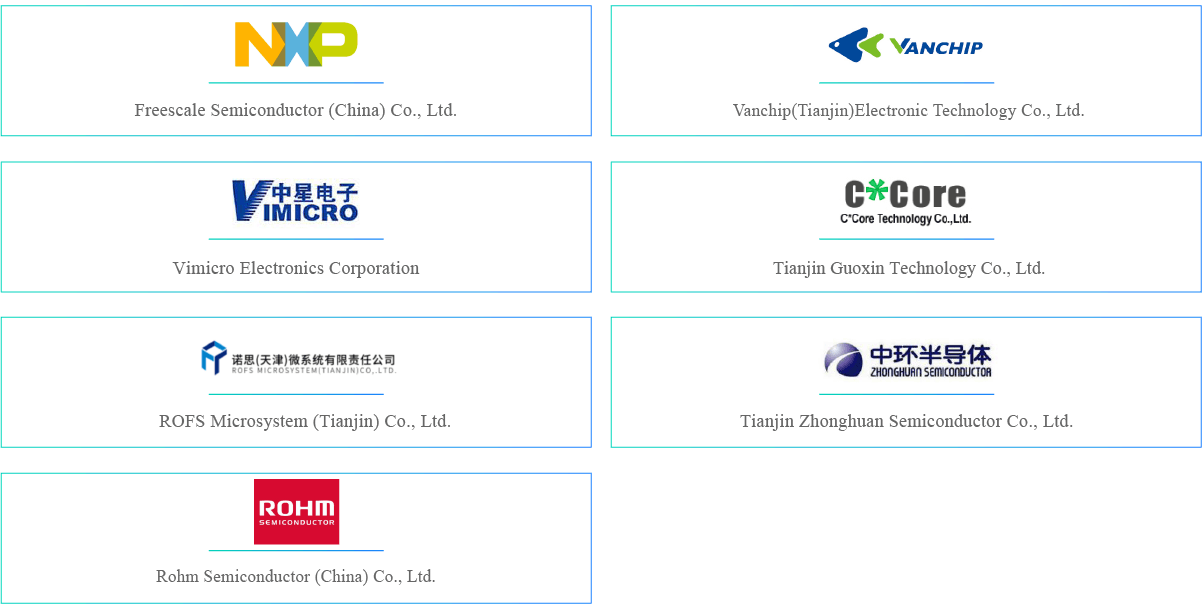 Industrial Internet Cluster
Focusing on industrial data collection, transmission, storage and data application, it deeply explores the industrial interconnection industry, and an industrial interconnection industry cluster represented by Foxconn, Tencent, Honeywell, Schneider, Kebi Electric, and Jinshan has formed.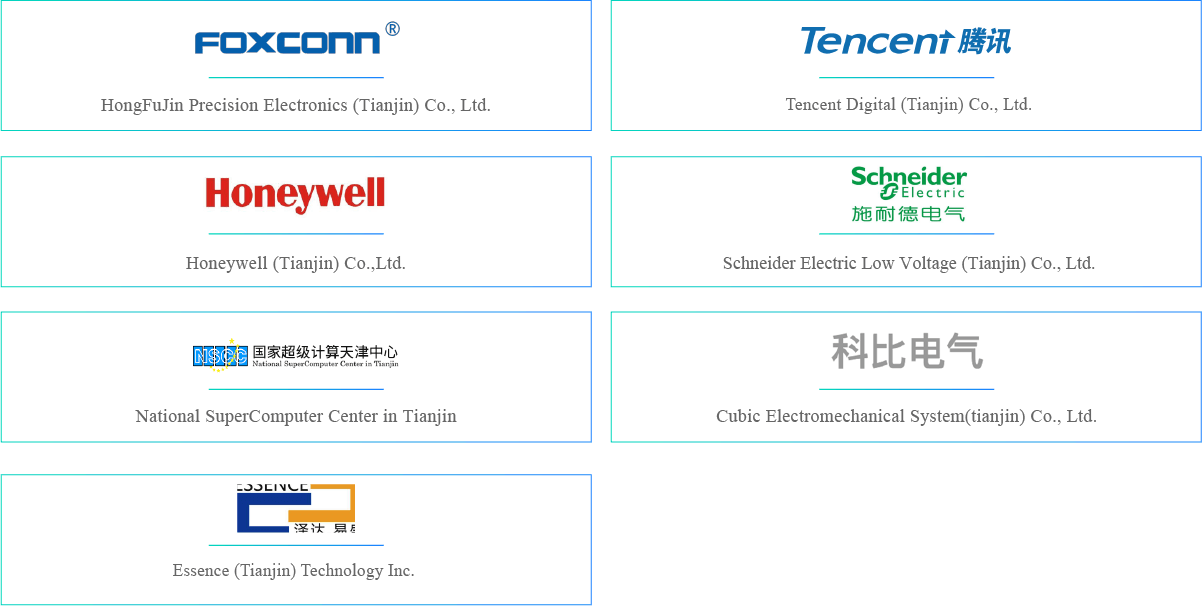 Industrial Advantages
The electronic industry of TEDA has successively won many valuable titles such as national-level demonstration base for new industrialization, national-level innovation demonstration area, and national free trade zone.
Complete Policy Support System
·Regulations of Tianjin Development Area on Promoting the Development of Service Outsourcing Industry
·Interim Measures for Tianjin Economic-Technological Development Area to Promote the Development of Advanced Manufacturing Industry
·Interim Measures for Tianjin Economic-Technological Development Area to Develop New Economy and Cultivate New Driving Force
·Trial Measures of Tianjin Economic-Technological Development Area to Promote the Development of Integrated Circuit Design Industry
·Several Policies of Tianjin Economic-Technological Development Area to Promote Intelligent Technology Industry
·Several Measures of Tianjin Economic-Technological Development Area on Building a New Innovation Driven Engine and a Highland of Scientific and Technological Innovation (10-point Policy Package for Science & Technology Promotion in TEDA)
Rich Industrial Support Platforms
·National SuperComputer Center in Tianjin
·Tianjin Artificial Intelligence Military-civilian Integration Innovation Center
·Information Technology Innovation Center of Tianjin Binhai New Area
·Tianjin Zhongke Intelligent Recognition Industry Research Institute Co., Ltd.
·Peking University (Tianjin Binhai) New Generation Information Technology Research Institute
Huge Think Tank Support
130 national-level high-tech enterprises
4 national R&D institutions
14 provincial R&D institutions
1 main board listed company
1 enterprise that has filed an application for listing in the STAR market
6 NEEQ listed companies
5 OTC listed companies
Sufficient Talent Reserve
59 colleges and universities
183 vocational schools and technical schools
Tens of thousands of students majoring in electronic information graduated from colleges and technical schools every year
38 entrepreneurs recognized as national advanced talents
183 entrepreneurs recognized as Tianjin municipal advanced talents
20 entrepreneurs recognized as leading talents in innovation and entrepreneurship in Binhai New Area
It is among the best of the districts and counties of Tianjin in the number of recognized advanced talents at all levels.
Development Goals
TEDA Aims to Build up The New Generation of Electronics & IT Cluster
TEDA tries to promote the steady growth of the industrial scale, continuously optimize the industrial structure, accelerating the gathering of innovation elements, continuously improve information and communication infrastructure, form a modern electronic information industry system with coordinated development of automotive electronics, 5G radio frequency front-end, laser display, industrial Internet and cloud computing, consumer electronics and basic components, smart terminals and electronic-level basic application materials, and preliminarily build a national-level information technology innovation demonstration zone and an industrial development gathering zone.