TEDA Embraces a Promising Future in a Blueprint of Building International Consumption Center Cities

Recently, China has announced that five cities including Tianjin, Beijing and Shanghai will take the lead in developing international consumption center cities. As the largest port city and important industrial and commercial city in North China, Tianjin has a long history of commerce and trade. The title of international consumption center city will also endow Tianjin with more growth potential.
In the future, Tianjin will not only be a hub of outstanding market entities and commodities to provide premium local commodities and services to the rest of the world, but also an destination for global consumer products. TEDA, the core of Binhai City, is a piece of promising land of this international consumption center city.
Making Progress amid Steady Economic Growth
The first batch of pilot cities take a leading position in sizes of economy and population. Take Tianjin as an example. In 2020, Tianjin's GDP reached 1.408373 trillion yuan. As the best national-level development zone in terms of comprehensive investment environment with the biggest economic aggregate and a strong connection with the international market, TEDA also made steady progress in 2020.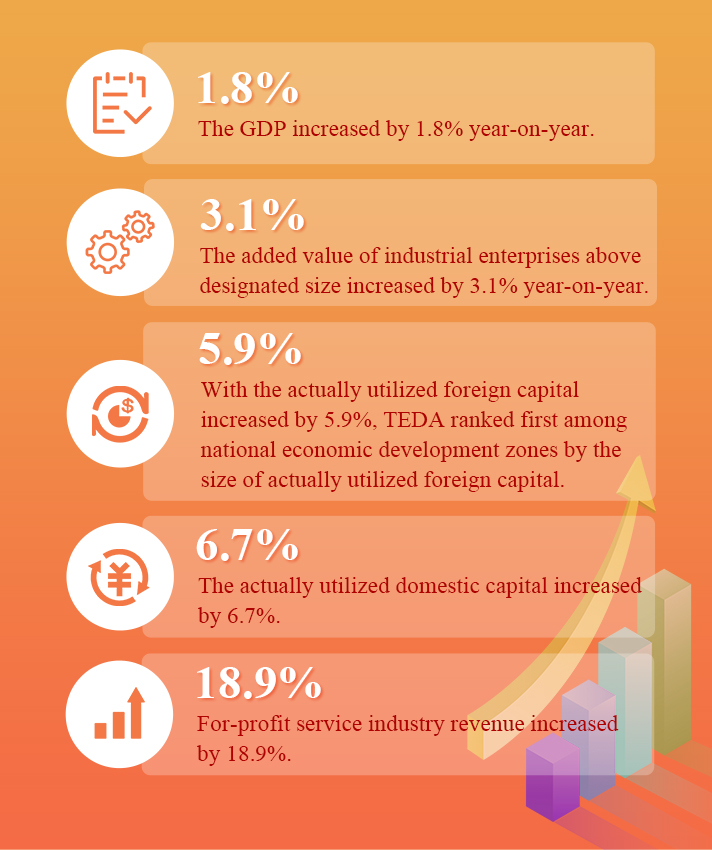 Favorable Geographic Location
With easy access to the vast market in North China, Northeast China and Northwest China, TEDA faces Japan and South Korea across the sea and connects China with Northeast Asia and the booming Asia-Pacific Economic Rim. With Tianjin Port in the east and the adjacent Tianjin Binhai International Airport , the world is at the tip of TEDA's finger.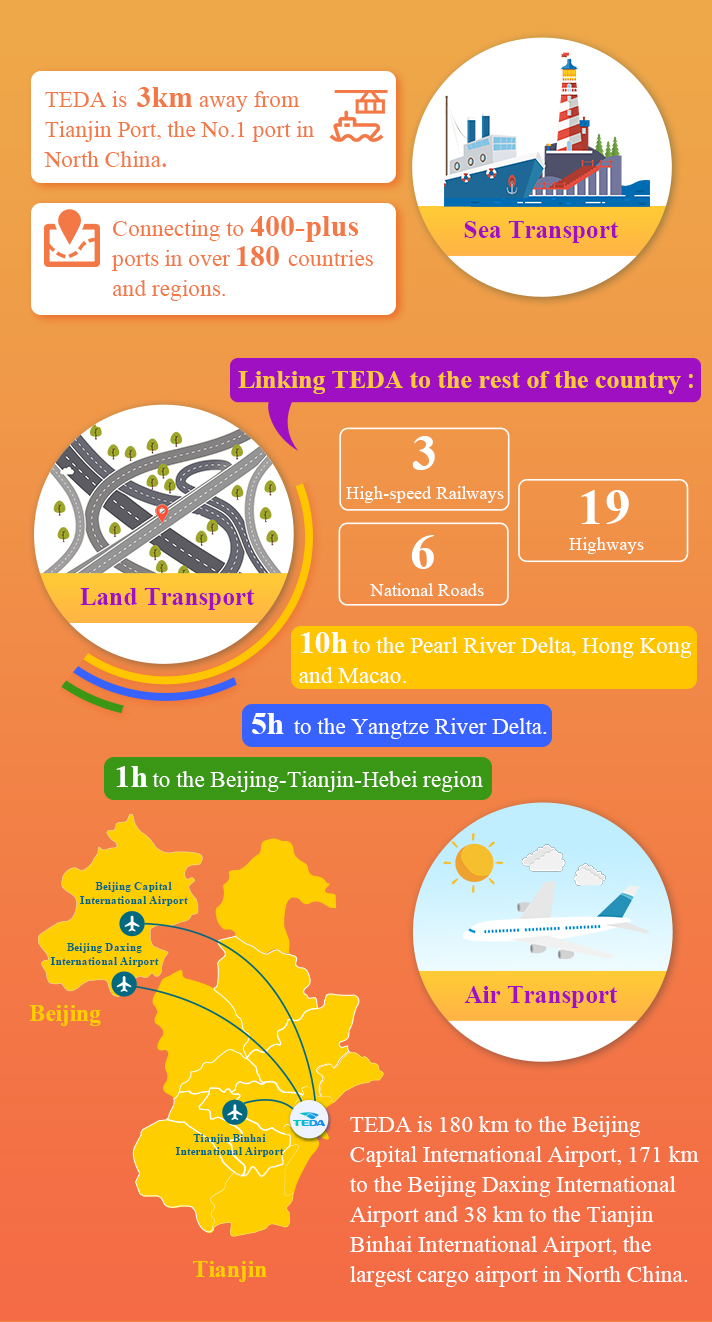 The superb location will benefit TEDA's transformation into an international consumption destination, commodity trading port, and commercial center. Going forward, TEDA will also grow into a commodity distribution center serving North China, Northeast China and Northwest China and a world-famous city with various market resources and convenient traffic network.
Multiple Policies in this Pilot Zone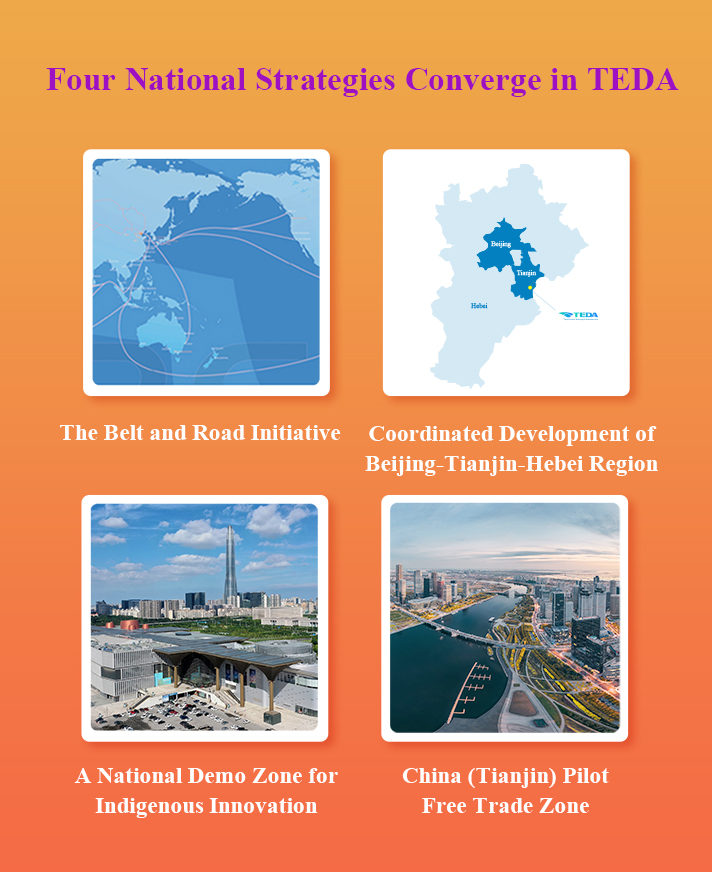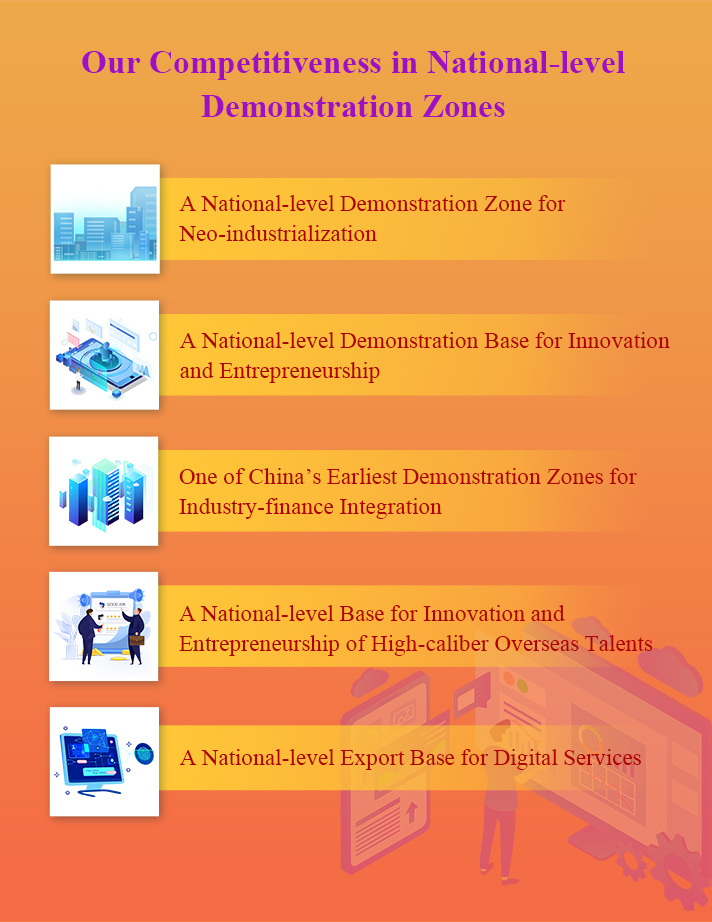 Well-developed World-class Consumer Environment
Aimed to lower the cost for its investors, TEDA values an open market with equality and integrity. It always gives local businesses impetus to grow and prosper with an international service system guaranteed by rules and regulations. Now, TEDA is ready to embrace its visitors with well-developed commercial complexes, unique cultural & tourism resources and colorful recreational activities.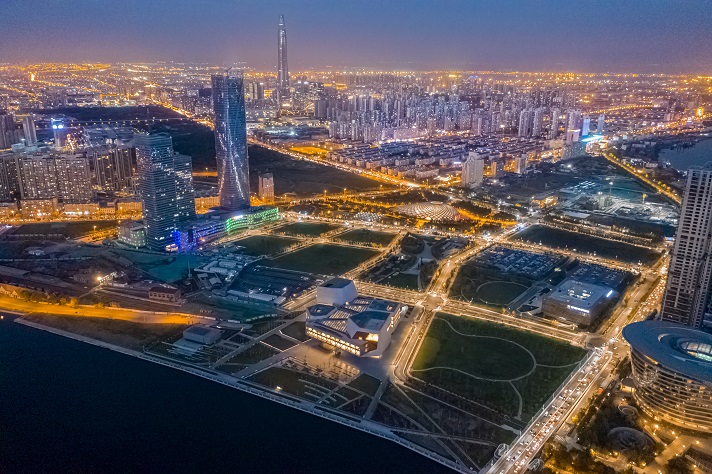 1. World-class Consumer Environment Formed by Mature Commercial Complexes and Brands' First Stores
Mature commercial complexes have taken shape in TEDA including Tianjin K11 Art Mall, Isetan, AEON Mall, G-yuanbao Binhai International Shopping Center, Binhai Wanda Plaza, and Yujiapu Baolong Plaza. The night markets in the complexes also make life here more colorful.
TEDA enjoys the charm to world-renowned brands to launch new products and open their first stores such as KFC's "Restaurant of the Future", Tianjin's first Huawei Authorized Experience Store PLUS and Binhai's first DJI Innovation Experience Store (to exhibit UAV products).
2. Special Cultural and Tourism Resources Earning TEDA Fame
Developed upon the abundant resources both in industries and tourism, TEDA's unique industrial tour entertains its visitors with knowledge, attractions and unique experience.
3. Colorful Theme Activities Enriching Citizens' Lives
Eye-catching activities such as TEDA Summer Art Festival, TEDA Marathon for All, TEDA Outdoor Concert and TEDA Cup International Youth Design Competition not only enrich people's lives, but also attract talents from home and abroad.
An international consumption center should not only facilitate the development and give full play to its leading role for its domestic peers, but also become a hub for global consumers and the center of joint development in the region. TEDA gives equal priority to building itself into "a consumption center" and "a manufacturing base", indicating that choosing TEDA is choosing opportunity!
First-class Industrial Environment
Pillar industries such as auto& high-end machinery, next-gen information technology, new chemical materials, medicine & health, and modern services have witnessed rapid growth and developed into complete industrial chains.
TEDA boasts a vibrant and international industrial environment which values innovation. As a gathering place for various industries, TEDA welcomes famous enterprises from home and abroad to invest in TEDA. So far, TEDA's trade network has extended to nearly 200 countries and regions, and the exports has gone to some 190 countries and regions.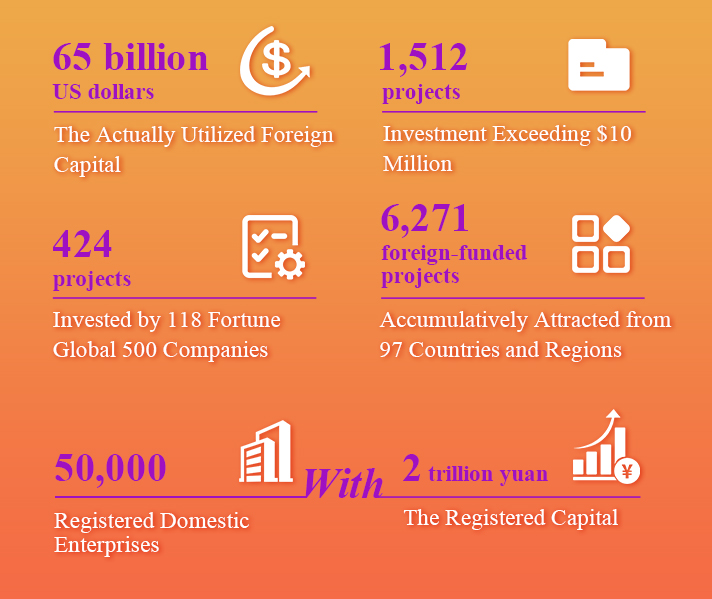 TEDA's Honors