A Closer Look at TEDA's Industrial Chains: High-end Machinery
As an important carrier of Tianjin's manufacturing industry, TEDA's high-end machinery industry boasts a strong foundation with domestic and foreign advanced machinery manufacturers. Riding the wave of the next-gen information technology, intelligent manufacturing in TEDA is rapidly developing with a host of cutting-edge manufacturing bases and green factories taking shape. Numerous products with international competitiveness are making their way into the world market. High-end, intelligent, and green manufacturing has become a vivid label for TEDA's high-end machinery industry.


Striding forward vigorously from the very beginning, TEDA's machinery industry has always kept pace with the global trend. In the 1990s, several foreign advanced machinery manufacturers such as SEW established their presence in TEDA. TEDA's machinery manufacturing industry towers upright in Tianjin's advanced manufacturing highlands with enormous resilience.

By the end of 2022, TEDA has embraced more than 600 machinery manufacturers, including 132 above the designated scale, with a total output value of 71.83 billion yuan. From marine machinery to aviation and aerospace, from intelligent machinery to energy machinery, TEDA has gathered numerous Fortune 500 and leading enterprises, and attracted a large number of suppliers for the industrial chain. Upstream and downstream suppliers on the industrial chain coordinate in this ever-growing industrial cluster.


Vestas Tianjin production base, a pinnacle of global wind power standards, is Vestas' largest integrated wind power machinery production base in the world. Leveraging Vestas and domestic wind power leader Dongfang Electric, TEDA attracts a large pool of major domestic and foreign suppliers such as Baettr New Energy, SIBRE (Siegerland Bremsen) and Cubic Electric System to establish a relatively complete wind power industrial chain ranging from resin raw materials in the upstream to nacelles, blades, generators, control systems in the midstream, and finally to wind power plant construction, consultation, and maintenance services in the downstream. TEDA has evolved into one of China's significant wind power machinery production bases.


Tianjin's Industrialization Base for China's Next-gen Carrier Rocket represents a new frontier in Chinese aerospace engineering, and a showcase for global standards. The production and assembly of rocket components, the final testing and trials of completed rockets and all structural manufacturing and final assembly of the Long March 5 and 7 carrier rockets are finished in the Base. Indeed, the Base has become a highlight for the burgeoning aviation and aerospace in TEDA.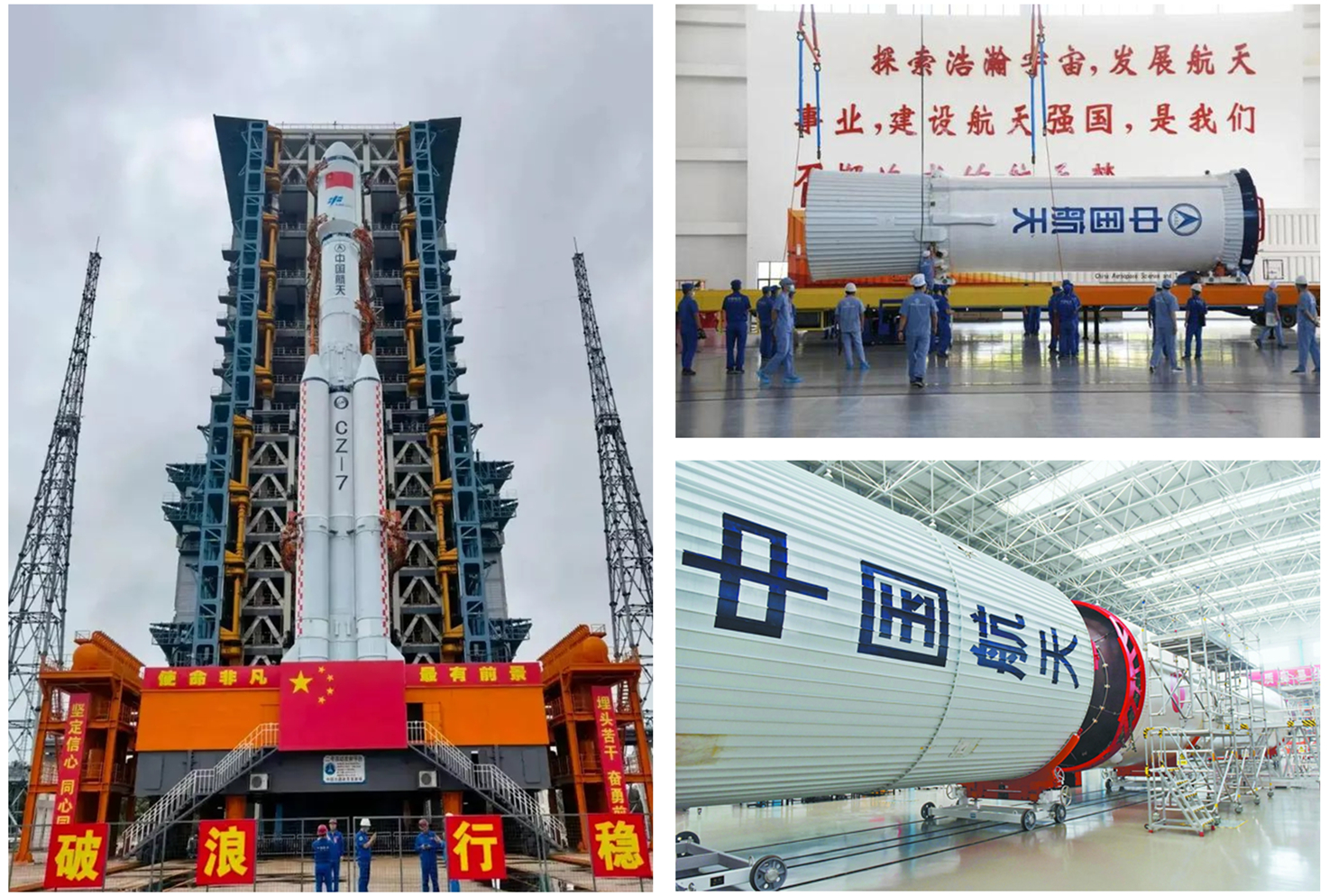 TEDA boasts three 100-bln-yuan industrial clusters (based on output value) including auto and high-end machinery, next-gen information technology, and new chemical materials. The high-end machinery industry accounts for approximately one-third of Tianjin's total. Based on solid manufacturing industry, TEDA reinforces its digital mindset, deepens the integration of next-gen information technology and high-end machinery, and promotes industrial transformation and upgrading through intelligent methods.

Global Leaders are Increasing Investment in Intelligent Manufacturing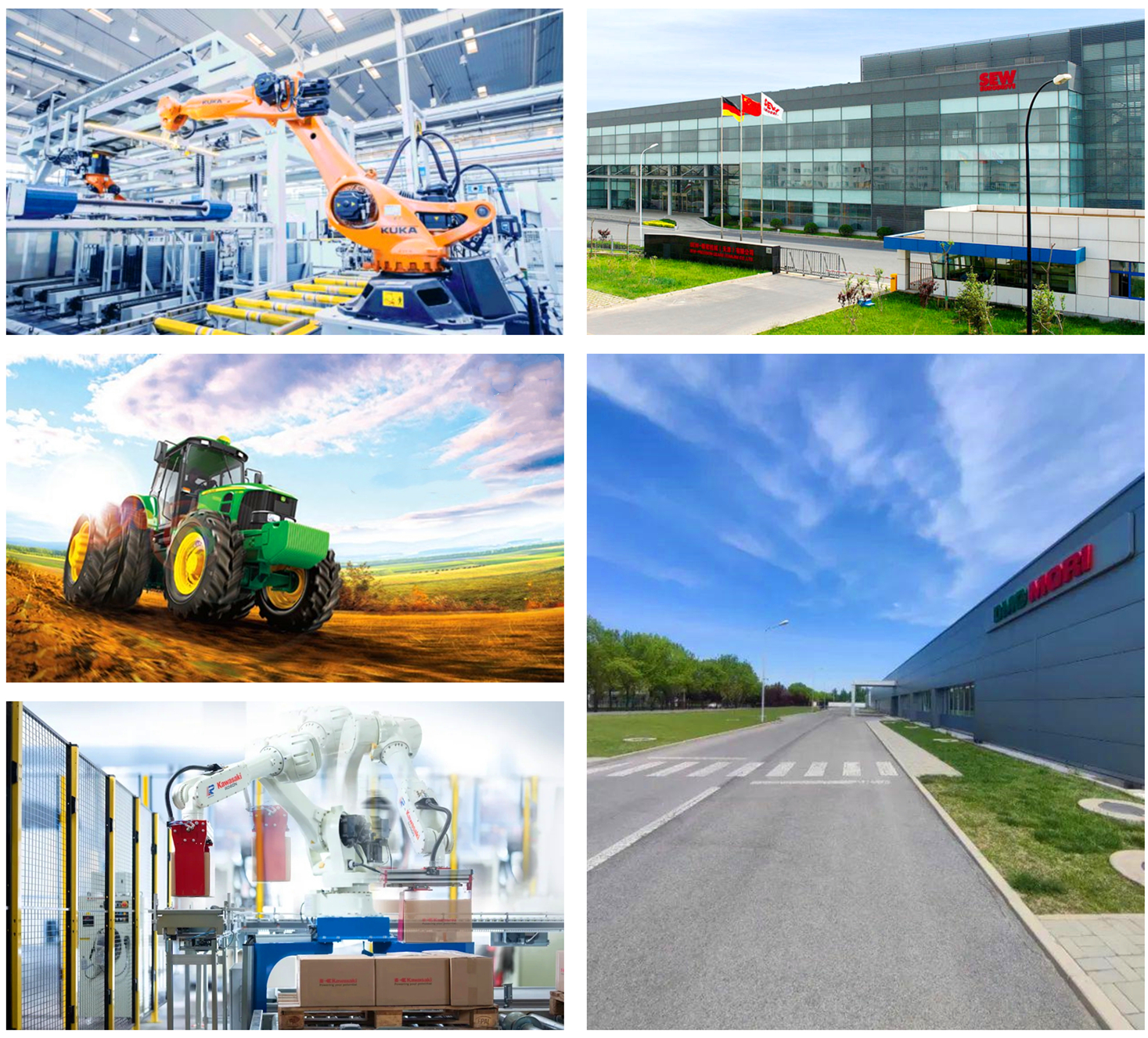 TEDA encourages local enterprises to improve production quality and efficiency through a large number of intelligent devices and systems, and drives technological transformation and upgrading in the industry. Leading companies in global high-end machinery industry, such as Kawasaki Robotics, have been TEDA's longstanding friends. For years, they have deeply rooted in TEDA, continuously increased investment and expanded production as an important engine for the intelligent and green transformation and upgrading of TEDA's machinery manufacturing.
Otis' TEDA Plant is amongst the largest and most advanced elevator manufacturing establishments worldwide. It is also Otis' first green factory in China with LEED Gold certification. The products made here are delivered across the globe. Thanks to TEDA's favorable location and support from regional development strategies, the Plant integrates digital technology and intelligent elevator manufacturing with fully-automated machinery, lean logistics and warehousing, and the interconnectivity of upper-level data as a benchmark in global intelligent elevator transformation and upgrading. "TEDA has an excellent industrial foundation and a profound atmosphere for intelligent development. We are fully confident in our future here!" said Zhang Wei from Otis Elevator (China) Co., Ltd.
Such stories are constantly unfolding in TEDA. Recently, SEW Group officially launched the construction of its intelligent assembly center in TEDA. This project utilizes SEW's intelligent logistics core technology and consistently introduces German intelligent manufacturing electronic products for localized production, aiming to build SEW China's Intelligent Manufacturing Model Factory. In digital applications, John Deere's Tianjin factory innovatively introduced "Digital Excavator" concept, set up a new industrial machinery design route and transformed the "Geometric Prototype" into "Performance Prototype". Thus, John Deere's Tianjin Plant boasts an unparalleled competitive advantage in engineering machinery. Dedicated to the construction of Garden Factory, DMG Mori's Tianjin factory's photovoltaic project was officially in operation in 2022, becoming DMG Mori's first Green Factory in China.

Sudden Rise of Intelligent Manufacturing Leaders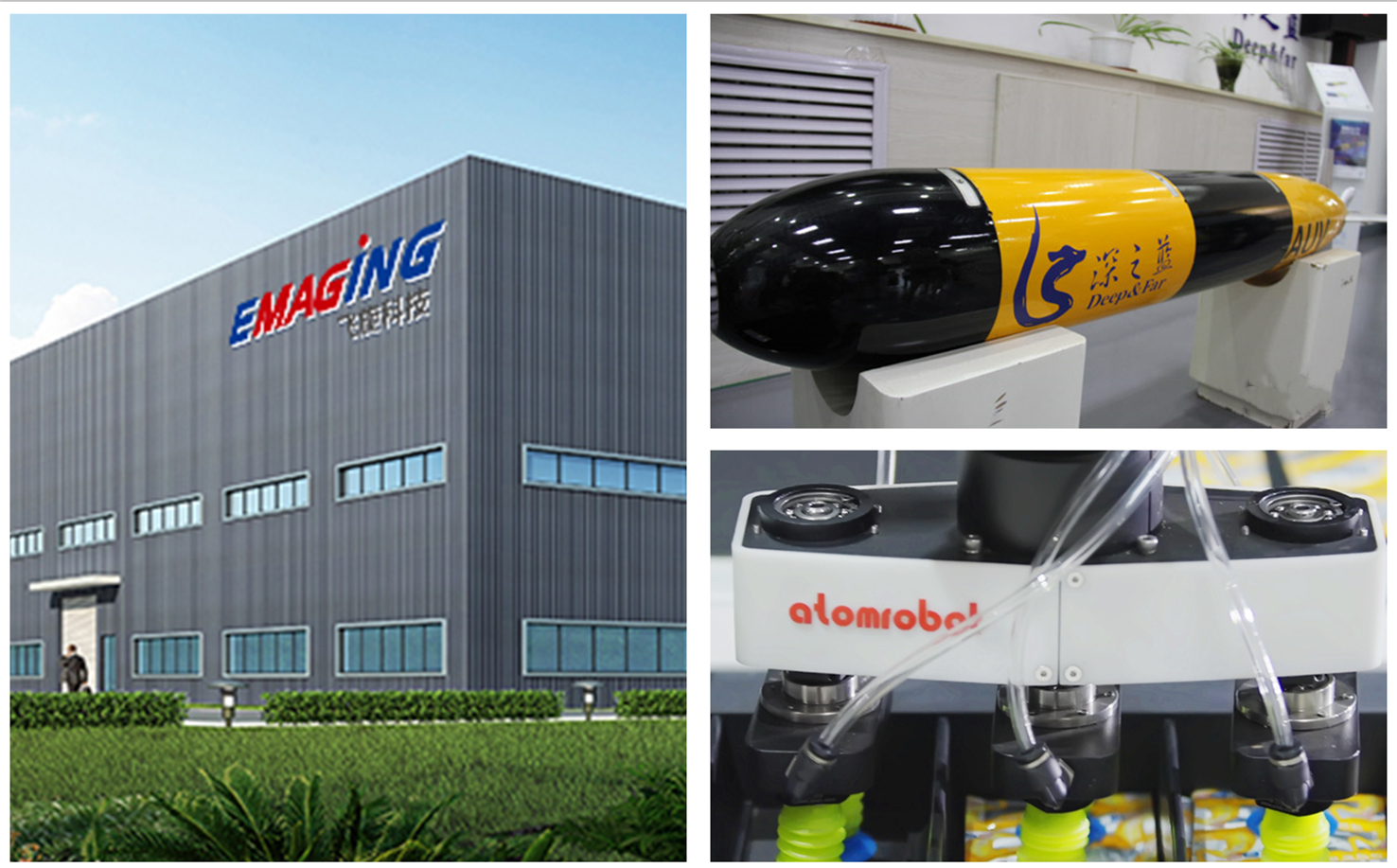 Automation has bestowed greater opportunities to machinery industry. TEDA has made tangible outcomes on the way of making traditional manufacturing smart, with the emergence of domestic leading intelligent technology companies such as Tianjin Sunke Digital Control and Atomrobot, as well as a group of international leading innovative products with independent intellectual property rights.

Deepinfar is one of the top companies in China for the R&D of underwater robots. As an intelligent technology leader growing in TEDA, the company holds more than 300 patents, with its products winning numerous Red Dot design awards of Germany and sold to over 70 countries and regions worldwide.

EMAGING Technology is a high-end intelligent manufacturing enterprise nurtured and developed by TEDA. The company possesses four pieces of core technologies, including magnetic suspension bearings with completely independent intellectual property rights, high-speed permanent magnet motor, high-frequency vector frequency conversion, and high-efficiency fluid machinery technology, making breakthroughs in China. Many of its products are in a leading position globally.
Distinctive Industrial Parks to Expedite the Ecosystem of Industry Aggregation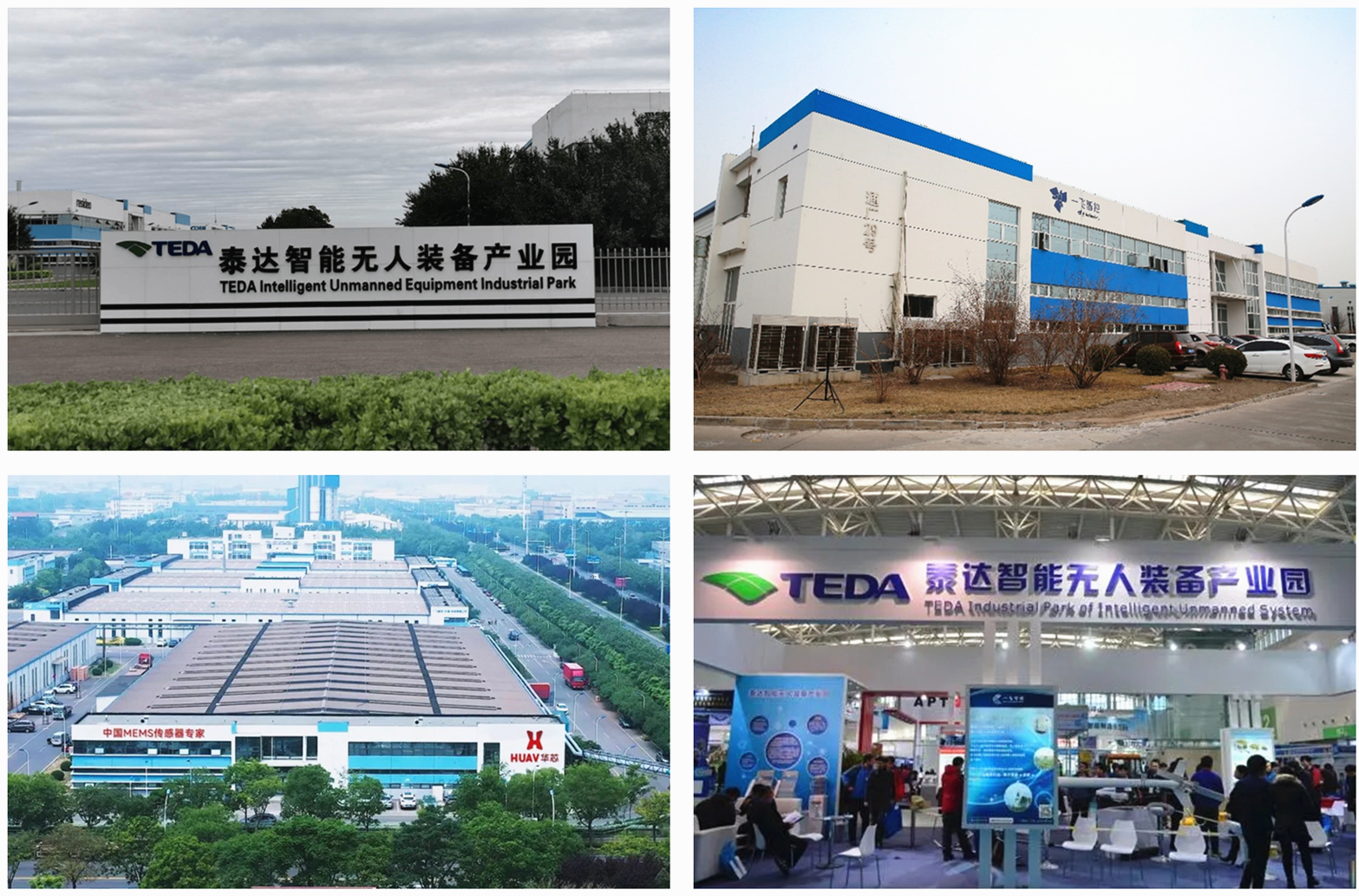 These emerging intelligent manufacturing companies continuously drive the upgrading of TEDA's machinery manufacturing industry towards a smart one. To promote industry development and optimize the industrial ecology, TEDA has created a batch of premium, specialized industrial parks for high-end machinery, providing more venues and space for intelligent manufacturing.

In TEDA's Intelligent Unmanned Machinery Industrial Park, traces of intelligent manufacturing can be found everywhere. This is where a large number of well-known domestic and foreign drone and intelligent machinery enterprises gather, forming a complete industrial chain from R&D to platform and application. Every year, the park saw core technologies born and numerous innovative products delivered globally. "Over the years, we've seen the drone industry expanding its product portfolio in Binhai and the superior policies that Binhai offers to technology enterprises. In particular, for the past two years, more and more related technology enterprises have gathered here, and the deliverables of the industrial chain can benefit all enterprises within," said Zhang Yun, Vice Chairman of EFY Tech.

Intelligent technology brought tangible benefits to enterprises. These achievements are inseparable from the assistance of various R&D forces. TEDA has 37 national-level and municipal-level engineering technology research centers, enterprise technology centers, and corporate key laboratories in the field of intelligent manufacturing. These technology centers are powerful accelerators driving industrial growth. As the fertile ground for scientific and technological innovation in TEDA and Tianjin, TEDA Digital Industry Park has accommodated major scientific research platforms such as the National Super Computer Center in Tianjin, Information Technology Innovation Center of Tianjin Binhai New Area, and Tianjin (Binhai) Artificial Intelligence Innovation Center. It has also cultivated more than 300 digital economy enterprises, many of which are intelligent manufacturers.

At the same time, TEDA attaches great importance to local high-end machinery manufacturing. We regard cultivating innovative enterprises as the key to a new growth pattern. Currently, there are 30 high-tech enterprises in the high-end machinery industry, and a batch of little-giant firms with cutting-edge technologies in the niche market of machinery manufacturing have been cultivated, driving the rapid development of the high-end machinery industry.


Policy support is an indispensable part of industrial development. Recently, Tianjin has introduced policies such as the Three-Year Action Plan for High-Quality Development of the Industrial Chain in Tianjin (2021-2023) and the Three-Year Action Plan for Building a Strong Manufacturing City of Tianjin (2021-2023), which have provided guidance for the development of the high-end machinery industry. In 2021, Tianjin issued the first provincial-level regulation nationwide to promote intelligent manufacturing, i.e. the Regulation of Tianjin on Promoting Intelligent Manufacturing, which provides legislative support for transforming "Tianjin Manufacturing" to "Tianjin Intelligent Manufacturing". Meanwhile, Tianjin has established a 10-billion-yuan special fund for intelligent manufacturing as a full support to the industry.


In TEDA, project managers provide comprehensive one-stop services, including site selection, company establishment and admission evaluation in the preliminary stage, as well as project initiation, taxation, energy access, investment and financing services for established enterprises. Our targeted service meets enterprise demands, and enables enterprises to take root in TEDA with confidence.
Improving industrial policies and enterprise services have created a favorable environment for intelligent manufacturing. At present, TEDA has numerous industry associations such as the Tianjin Innovation and Entrepreneurship Alliance of UAV and New Materials Talents. By leveraging the platform, TEDA keeps gathering businesses along the industry chain. We facilitate the cooperation between upstream and downstream players, and attract professional talents to empower the industry.

Products made in TEDA have made presence globally. The thriving high-end machinery manufacturing here is applied more widely. In the midst of the latest digital revolution, TEDA will leverage the strategic advantages of the Tianjin Pilot Free Trade Zone and the coordinated development of the Beijing-Tianjin-Hebei metropolitan region. We will witness stronger innovation capability in intelligent machinery manufacturing and an industry chain moving up to a new level.